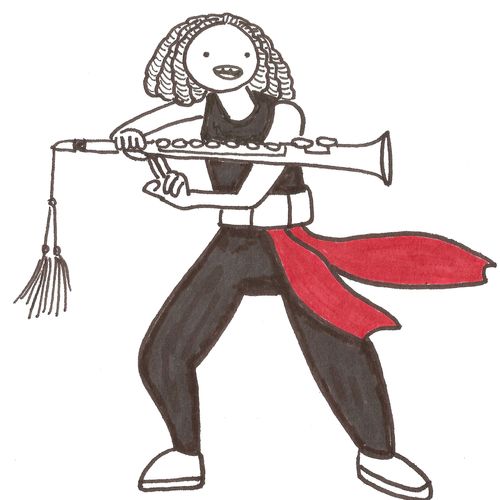 Taiji sax
drawing of Su by  SpongeBob animator Kent Osborne
 "Su Terry has never been your typical jazz saxophonist.. Terry is one of the very few female horn players to achieve acceptance on the tough New York hard bop scene in the '80s."
–Russ Musto, All About Jazz
BIO
S U   T E R R Y
SAXOPHONE AND CLARINET SOLOIST • COMPOSER • AUTHOR • SPEAKER
Su Terry began her music studies on the accordion at age five.  She first heard Jazz music as a child growing up in Connecticut, where her father had an extensive record collection and she listened to WRVR FM non-stop. As a teenager studying with legendary pianist and educator John Mehegan, Su mentioned she would like to write a big band arrangement for her high school Jazz Ensemble. Mehegan bet her an ice cream cone that she couldn't do it. She won. 
By age sixteen she was playing professionally for church performances and musical theater. She began playing jazz gigs while attending the Hartt School music conservatory in Hartford. Though she was accepted as a classical clarinetist, her secret agenda was to study with the late saxophone legend Jackie McLean, which she did for five years. During her time at Hartt, in addition to performing and teaching she also hosted a weekly Morning Jazz show on WWUH FM.    The Hartt School elected her Alumna of the Year in 2001.
Su has played and recorded with a variety of notable jazz artists including Dr. Billy Taylor, Clark Terry, Clarice Assad, Charli Persip, Peggy Stern, Clifford Jordan, Melba Liston, Hilton Ruiz, Howard Johnson, Joe Lee Wilson, Irene Reid, Walter Bishop, Jr. , Rachel Z and Jaki Byard. 
Her regular collaborators have included Tim Price, Vic Juris, Bill Goodwin, Tony Marino, Saul Rubin, Leon Lee Dorsey, Vince Ector, Luiz Simas, Bob Cranshaw, Alki Steriopoulos, Jim Gala and Steve Johns.  She currently performs regularly with the Ecuadorian group Jazz de Barro.
She's also performed with a long list of VIPs including Art Blakey, Carmen McRae, Chaka Khan, Jon Faddis, Lew Tabackin, Al Jarreau, George Duke, Wynton Marsalis, Lew Soloff, Dick Hyman, Barry Harris, Gene Bertoncini and Ray Barretto, to name a few. She's been a jazz soloist with the National Symphony under Marin Alsop, the Brooklyn Philharmonic under Coleridge Taylor Perkinson, the Hartford Symphony under Gene Bozzi, the New York Pops and Florida Pops under Skitch Henderson, and the Orquesta Sinfónica Cuenca under Michael Meissner.  She has performed worldwide at jazz festivals including Montreux, Nice, Pori, Northsea, Quito, Ottawa, Playboy, Montreal, Hartford and Trave. Club appearances include Tokyo, Berlin, Bern, Cologne, Amsterdam and London as well as countless performances in North and South America. In 2013 she toured Ecuador for the U.S. State Department. In the States she's been a frequent performer at venues such as The Kennedy Center in Wash. D.C. and Jazz at Lincoln Center in New York. 
Her discography currently contains over seventy recordings. She's the author of several music instruction books, and has received awards for her composing and arranging. She is the lead columnist for The Note, author of three non-fiction books, and a short novel.  Her Substack blog is called Temple of Artists, and features essays on music, art and literature.
Su's other passion is for the martial arts–she's a longtime practitioner of Taijiquan and Qi Gong. She is a 9-time championship tournament gold medalist in taijiquan. 
Su has given many nicknames over the years.  Some of them are: Sweet Sue, Blue Berry, Tiger, Mad Dog, Truth-Teller, Macha Pussycat and Badass.  The others we can't mention due to FCC regulations. 
Su Terry is a Yamaha artist. She uses Jody Jazz saxophone mouthpieces and ligatures, Légère reeds, and SaxRax horn stands. 
"Su Terry on saxophone: one should almost say that this lady is born for her instrument. That relaxed, exalted playing! That rhythmic feeling! That improvisational skill! Simply extraordinary!" --Die Wahrheit Berlin, Germany 
"She has a formidable musical intelligence. . . " --Penguin Guide to Jazz on CD 
"She plays like Charlie Parker reincarnated! She smokes!" --Jazz Central Station
Su Terry official website: https://suterry.com